Once you joined the Model Program, you'll be able to use the Custom Videos and take requests from your fans for a custom video of their choice.
Like all your video sales, you earn 65% of the video sale.
As with everything in the Model Program, you're in control:
- You control whether or not to offer custom videos.
- You control what you're willing to include in your custom videos.
- You control how much to charge for every single detail of a video, from the length, to the video quality, to the acts you perform, to the clothes you wear.
Important to note: Funds for Custom Videos are held by Pornhub until you deliver the video. Once you've submitted the final version to your buyer, you'll get paid for the video.
Ready to start accepting custom video requests? Here's how to set it up:
Visit your Model Settings, then click Modelhub, then click Custom Videos, then click SHOW MORE:

Click image to view full-size.
Now I'll walk you through each section, so you know exactly how to use every part:
DESCRIPTION: Enter a message that will be displayed at the top of your Custom Videos order form. Try writing something that will entice your fans to order a video, and outline any guidelines or requirements you have.
BASE PRICE: This is the baseline price to order a Custom Video from you. The price it costs to even start a video, before any extras. The price must be between $30 and $1000.

Click image to view full-size.
FILM DURATION: Choose what video lengths you want to offer. 5 minutes is the default, so if you check it off, it will be included. You can add additional prices for each other video length you want to offer - for example, $10 for each additional 5 minutes (you can choose any price up to $500).

EXTRAS: Choose what acts and/or services you'll offer for your videos, and what price to charge for them. Choose from our comprehensive list, and add up to 6 custom extras of your choice.
Click image to view full-size.
EXCLUSIVE: Give your fans the option to pay extra for the video to be exclusive, meaning you can't post it anywhere else. We recommend charging a big premium for this, if you enable it.

RESOLUTION: Give your fans the option to pay extra for a higher-resolution video.
DELIVERY TIME: 3-4 weeks is the standard delivery time for Custom Videos. You can let your fans pay extra for a faster delivery, if you want. Make sure to charge appropriately for your time!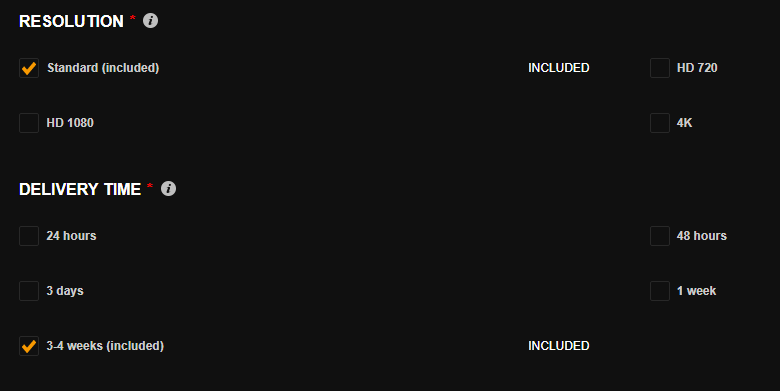 It's important to note that if you don't accept your Custom Video order within 7 days, it will be cancelled.
UPLOAD VIDEO: Once you set this up, you will be able to see your custom video requests on your Custom Video page. To upload a requested video, click "review" which will direct you to a page where you'll be able to see the order details, status, request date, and due date. This is also where you'll be able to upload your video.

As you can see, you have tons of flexibility and customization for your Custom Video order form. You can make them as affordable or expensive as you want, and you have complete control over what you're willing to do, how much you wanna charge, how quickly you'll deliver, and everything else.